Asus G20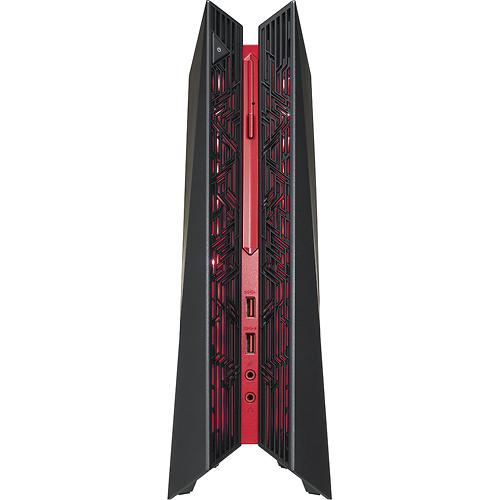 Asus ROG G20 Review
The Asus ROG G20 gaming desktop is a super sexy gaming rig that looks like it came straight out of Battlestar Galactica. There is no denying its sexiness, but with $1,000 price tag is it really enough gaming computer for your money or are you just buying good looks?
There are several different versions of the Asus ROG G20, including the G20CB, G20aj, and G20ci. It appears that Asus wanted to keep the G20 model number as a brand, but the letters added to the end denote the version. In this review, we will be looking at the Asus ROG G20CB as this is the latest and greatest version of this gaming system.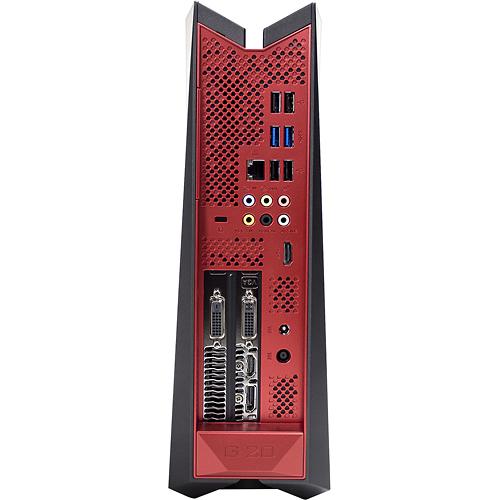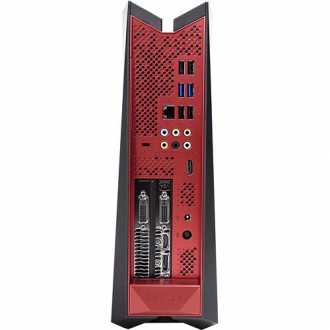 Asus ROG G20CB Specs
Operating System: Windows 10 Home 64-Bit
Processor: Intel Core I7-6700 3.4Ghz
Processor Cache: 8 MB L3 Cache
Motherboard Chipset: Intel H170
Graphics Card: NVIDIA GeForce GTX970 4GB (1HDMI,1DVI,3DP)
Memory: 8 GB Dual Channel DDR4 at 2133MHz (Expandable to 32 GB)
Expansion Slots: 1 x PCI-e x 16
Storage: 2 TB 3.5 SATA at 7200 RPM
Wireless: 802.11 a/b/g/n/ac
I/O Ports (Front):
2 x USB 3.0
1 x Headphone
1 x Microphone
I/O Ports (Back):
2 x USB 3.1
2 x USB 3.1 Gen 1
2 x USB 2.0
1 x HDMI-Out
1 x RJ45 Ethernet
1 x 7.1 Channel Audio
Power Supply: 230 Watts
Accessories:
Power Cord
Manual
Software:
Anti-Virus Trial
Aegis II
ASUS WebStorage
ASUS Command
Ai Charger ll
Dimensions: 4.09 x 13.38 x 14.09 inch (Width x Depth x Height)
Weight: 14.06 Pounds
Our Experience
We are always very cautious when we see a major component manufacturer launch a sleek new line of gaming rigs, especially at decent prices. You see, to make a really good gaming rig, your focus as a company needs to be on making kick-ass gaming computers. Part of making top-end gaming systems is using the best components even if they are more expensive, and you can never favor a certain brand unless you favor it because of its superiority. Inevitably, major component manufacturers are too busy making other products to focus on this and seem to always fall behind quickly. Worse, they always favor their own products. If MSI made the best gaming motherboard, would Asus put it in the ROG G20? I doubt it.
What seems to make this worse is that these kinds of systems are always styled to look so cool! Yes, that's a bad thing. You see, good looks are great but if the manufacturer is not careful the design department will determine the style, look, and shape of the product while the technical department will have to figure out how to make it work. That is what happened with the Asus ROG G20.
The only gaming computer company that every succeeded at this was Alienware but, after Dell bought them, they too fell victim to this phenomena.
What's Wrong with the Asus ROG G20?
We're glad you asked! Look at the case. It's gorgeous (in an alien starship kind of way). Computers need venting, and gaming computers need good venting for proper cooling. Without proper cooling, a gaming computer will overheat and crash, or you have to use slower and more inferior components to compensate for the lack of air flow. The Asus ROG G20 seems to have split the difference. The video card is mediocre, which should help with heat buildup, and Asus advertises that the fans and cooling systems are a super quiet 22 Decibels when idle. Unfortunately, there is a reason that they specifically mention that decibel level as being when the computer is idle. When you are actually playing any modern video game, the sound it quite a bit louder and enough to be annoying.
Perhaps that's the price of beauty but, for something this loud, it should be cooling something powerful and not straining to cool a mediocre graphics card.
The Asus ROG G20 also has the typical flaws of all of the sleek looking gaming towers in this price range. They are not marketing the G20 to hardcore gamers. Their core customer doesn't know that a high-end gaming rig is going to cost between $3,000 and $7,000 or that if you only have a $1k budget that you should spend it on great components even if the case is cheap and ugly. Because their core customer just wants to play video games and feel cool about it, and there's nothing wrong with that. Getting a good budget gaming computer should be that simple, but the Asus G20 is part of the problem with this price range.
Asus does make some good components. Personally, we are not fans of Asus monitors either but do have respect for Asus video cards.
I almost forgot to mention that the lighting in the case changes colors. Unfortunately, that's about the best reason to buy the Asus ROG G20.
Looks Great
Small Form Factor
Lightwieght
Low Specs
Poor Cooling
Limited Upgrade Options