Brilliant or Bust? A Review of Amigabit's PowerBooster
Brilliant or Bust? A Review of Amigabit's PowerBooster
PowerBooster by Amigabit is purported to be an all-in-one PC utility that can help Microsoft Windows owners (sorry Mac users, you're out of luck on this one) keep their computers in tip top shape by optimizing the system, cleaning up unnecessary files and folders, and de-cluttering the hard drive by deep scanning and analyzing the computer's hard drive to find problems. We received a free copy of the software in exchange for an honest review. So, let's see how it performs.
Installation and Configuration
Downloading and installing PowerBooster was a no-brainer. The download was small, and installation was quick. With very minimal installation options, it was a simple matter of clicking a few buttons and letting it run. Once the software is installed, however, problems immediately became evident. The serial number we were given would not authenticate with the servers, and without authentication/registration, according to Amigabit's features list, the software lacks a number of functions. We did receive a valid registration, but it makes one wonder if normal users would experience the same type of issues after purchasing the software.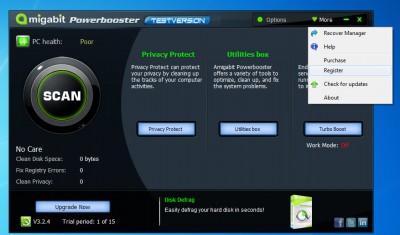 At first glance the software seems intuitive and easy to use, even for users without a wealth of computer knowledge. The layout is nice, and the menu options, such as they are, make it very easy to figure out what to do.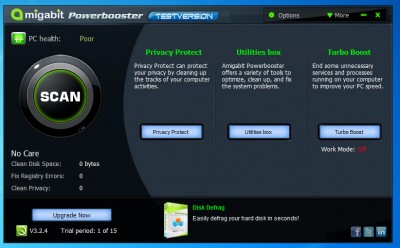 Software Basics
The software has four basic components
1. Overall PC health scan
At first run, the software claims "poor" PC health. This is to be expected, as it hadn't yet had a chance to look at the system and determine if there were any problems. Scanning the computer found a host of problems – 1,174 of them, to be exact – most of which were simply temporary Internet files, cache and cookies. These are normal and were no cause for concern, but were cleaned anyway.
2. Privacy Protection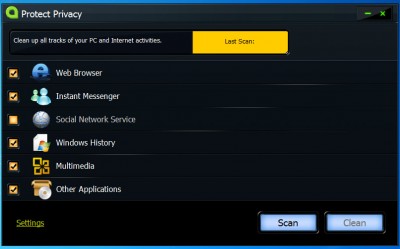 Privacy protection lists a number of options that the user can scan for, including windows history and social network services. I had high hopes for the social network service scan, but unfortunately it cannot even be activated, and therefore could not be tested. Running a scan of everything else, however, produced a result of 465 "problems", leading one to automatically assume that there were some serious issues with the computer system. The problems? Simply a record of recently opened files, recently visited Internet websites, and log files for various installed programs. Needless to say, the idea of having a software program automatically scan and remove, or "fix", log files is cringe-worthy at best. Log files are there for a reason, and calling them a "problem" and removing them is not only silly, but can actually be a bad thing.
3. Utilities
The utilities section of the PowerBooster software appears, at first glance, to be the most promising, with quite a large number of available tools, including a memory manager, hard disc defrag utility, and a startup manager. Unfortunately, most of these options either don't work well, or are completely pointless. There are, however, some real gems hidden in there, but they're not things that are necessary for overall computer health or maintenance [see 'Useful Utilities' below for a brief rundown on these].
4. Turbo Boost
Turbo Boost is a utility that is found in a number of software applications, albeit under different names. The idea behind this utility is to disable unnecessary processes and running applications in order to free up valuable system resources. This is sometimes referred to as "gaming mode", and is helpful when loading a resource-intensive game.
Configuring Turbo Boost
One of the first things that one notices when configuring the Turbo Boost utility, is the absurdness of some of the options: as this type of utility is commonly used by gamers and people who need all available resources for resource-intensive work, the thought of disabling keyboard hotkeys is worthy of an eye-roll. While many of the other options have nothing to do with gaming in particular, the fact that Amigabit calls this "Work mode" makes disabling things like printer, scanner and tablet input support a bit odd, wouldn't you say?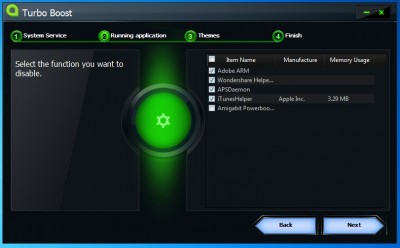 While disabling running programs should, naturally, be a part of putting a computer into "game mode", PowerBooster fails to even detect a number of running applications – Google Chrome web browser and Adobe Photoshop, to be precise. Since those applications are unnecessary, they should show up in the list as options. As you can see from the above screenshot, they do not. However, the software does consider itself unnecessary, and puts itself into the list. This is, perhaps, the first thing it's been right about so far.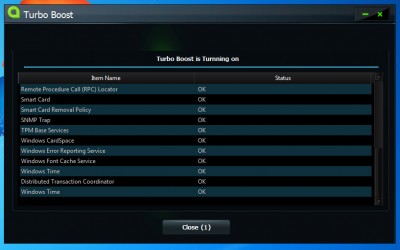 Once the utility has been configured, it begins to configure the computer for "work mode", by disabling and shutting down a number of processes: including, oddly enough, Windows error reporting and Time services.
Before running Turbo Boost:
After running Turbo Boost:
Unfortunately, this utility fails to meet expectations as well. As you can see by the two screenshots above, a grand total of two processes were disabled by Turbo Boost, with the number of threads and handles actually increasing, and the amount of available free memory decreasing – quite the opposite of what is expected.
Testing Disappointments
While the idea behind the memory manager is sound – "defrag" your memory to free up space and allow the computer to run a bit faster – the utility doesn't really hold up to the promise. While running the PowerBooster software, memory usage spiked to 64%, according to the memory manager scan. After running the utility, a mere 145mb of RAM was released, dropping overall usage to 61%. This hardly seems worth the effort.
Before: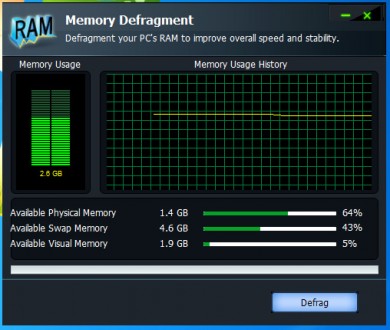 After: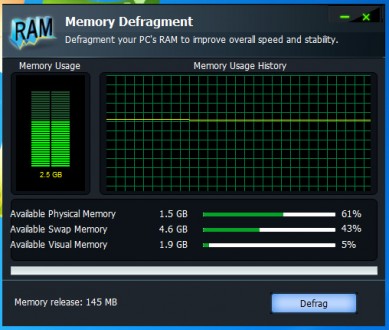 The disc defrag utility, likewise, was a waste of time, as a scan of my hard drive showed a large (1.17gb) fragmentation.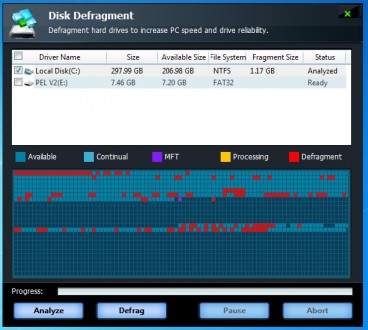 To begin with, this is a rather odd way to report this information, as most defrag utilities display the percentage of the drive that is fragmented (files split into numerous locations on the hard drive, which causes the drive to work slower while reading and writing), including Windows' own built-in defrag utility. And speaking of Windows defrag, what does it have to say about my hard drive?
That's right, ZERO PERCENT. My hard drive is not fragmented, and does not need a defrag. This could, of course, mean only that PowerBooster is either falsely reporting a problem in order to "repair" it, or simply isn't very good at what it does. Neither, unfortunately, is the file unlocker utility. After trying to delete a file from my flash drive that, according to Windows, was currently in use, I turned to PowerBooster to unlock it. The general idea behind the locker is to "release" the file when Windows incorrectly assumes that it's in use, as frequently happens with the Windows OS. Unfortunately, although the file unlocker utility said it had successfully unlocked the file, Windows still insisted it was in use and refused to delete it.
Pointless Utilities
There are a number of included utilities that are, really, just pointless. Granted, these utilities can be useful on occasion, such as the shutdown scheduler, but the same can be accomplished with utilities that are already built into windows.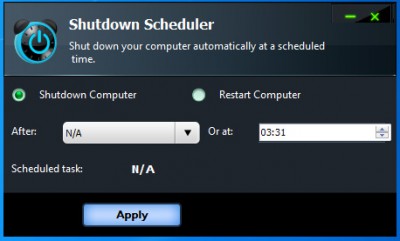 There are, however, other utilities that don't really seem to make too much sense, like a context menu manager that will, for whatever reason, activate and deactivate menu items..
.. and a utility that finds empty folders on your hard drive ..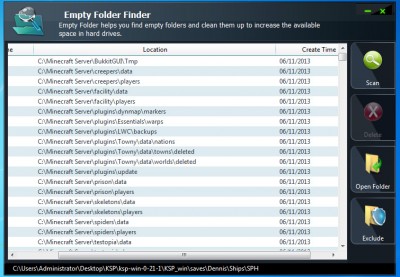 Useful Utilities
As mentioned previously, there are a few decent utilities included in this software, although they are things that most normal computer users will not have a need for: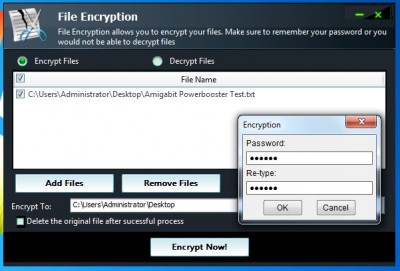 The ability to encrypt files and keep them from prying eyes can be useful for a number of reasons. Financial records, Christmas shopping lists, and contact information are all generally things that you wouldn't necessarily want prying eyes to see. PowerBooster's included file encryption utility does a decent job of locking down a file, although it doesn't appear to technically encrypt the file, but rather just lock it down so that it can't be opened unless unlocked first by the PowerBooster utility. The process is simple: either browse for the file you wish to lock, or drag and drop it to the utility. You'll need to put in a password to unlock it, after which it will create a locked file with the corresponding filename.
Likewise, a file shredding utility is often used by the security conscious computer user to permanently delete files. Sure, Windows includes a "Recycle Bin" utility to delete files, but normal deletion isn't actually permanent, nor secure. This is where a file shredder comes in. This utility, after deleting a file, writes over the particular file location, making the delete file irretrievable in theory.
Overall Impression
While Amigabit makes some rather bold claims about PowerBooster, with eye-catching terms like "ultimate speeding up" and "intelligent privacy protection", after using the software it appears to be neither ultimate, nor intelligent. In fact, other than a few utilities, the software appears to be a bust, and definitely nothing I would recommend. Especially considering the fact that you can find utilities that do a much better job, without wasting money on a bloated piece of software that simply does not stand up to its claims.