Amanda Boxtel Walks For the First Time in Years Thanks to These Robotic Legs
Amanda Boxtel Walks For the First Time in Years Thanks to These Robotic Legs
Technology is changing rapidly and in many ways for the better. New science and medical innovations are allowing for better patient care and better solutions to issues, which, Amanda Boxtel, as well as 1500 other people can attest too. These people, including Boxtel, are members of a test group for Ekso Bionics, a company that we covered earlier this year. Ekso Bionics are making a splash in the medical world with their exoskeleton robotic legs which could soon replace the wheelchair. These robotic legs cost $110,000 each, and allow the user to walk, even when they're like Amanda and paralyzed below the hips.
Amanda Boxtel
In early 1992, Amanda Boxtel was a dancer and skiier before a freak accident sent her into a somersault that ended with four crushed vertebrae. While the doctor told her she would never walk again, Boxtel refused to let a wheelchair ruin her life, and learned to Ski again, even becoming a skiing instructor and cofounded Challenge Aspen, which assists adaptive athletes in reaching their goals. She also carried the Olympic Torch in 2002, and was awarded the Harold Grinspoon Humanism Award for her work in charity. But while she didn't let her wheelchair confinement change who she was, Amanda, like anyone else, dreamed of walking again. In 2010, a call from Ekso Bionics literally changed her life, when the CEO of Ekso Bionics called her to ask if she would like to be the first female tester for their robotic legs, "Ekso'.
Ekso Bionics
Earlier this year we covered a full brief on Ekso Bionics, which you can check out here. If you want the short version, Ekso Bionics is a team of engineers from Berkley who originally created a product known as E-Legs for helping soldiers to carry more weight. Later, they reinvented it for helping paraplegics to walk again by supporting the legs, the joints, and the pelvis. Now named 'Ekso' short for Exoskeleton, these legs have helped dozens of people learn to walk again and could eventually be the replacement for the wheelchair. The robotic legs help to replace the movement and control that would usually be given by the spinal column, and can anticipate the users movements so that the wearer can eventually walk with a natural gait. In addition, the Ekso legs can be controlled from a remote control or through the crutches that come with the Ekso for balance purposes.
Walking in Ekso
In 2010, Amanda began training with the Ekso Bionics legs and is today a brand representative for the company. She describes walking for the first time in 18 years as a dream come true, and you can hear the emotion in her voice as she describes taking her first steps. Training is intensive, and her muscles took a while to adjust, but Amanda can now walk inside and outside with the help of a trainer to make sure she doesn't trip on anything. Amanda can get into the Ekso on her own, and can operate it on her own, but for now is using a trainer for safety reasons. Later versions of the Ekso might not need the trainer after a literal training period, and would allow wearers to walk to the grocery store, walk around their home, and stand instead of having to sit at a lower level than everyone else. While not yet completed, the technology is psychologically and physically empowering.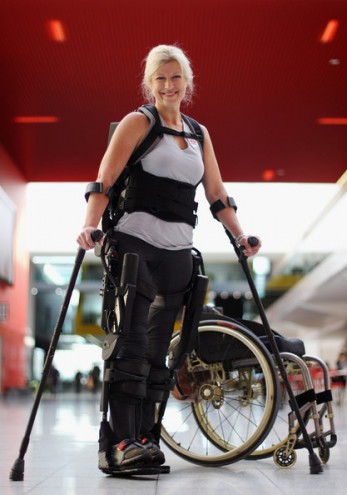 There are dozens of other people like Amanda who are now making use of the Ekso Bionics legs, and more are sure to come. Combined with technologies like Google's driverless car, Flex Foot Cheeta Blades, and other technologies, having disabilities is no longer a disability, just a temporary setback for those like Amanda who are determined to keep going.