Use the Air Display App if You Need Another Screen for Your Mac
Mac
Use the Air Display App if You Need Another Screen for Your Mac
If you own a Mac and like to use it a lot, especially for work, then you may have wanted to add an extra screen (monitor) or two to it. Since most Mac's, at least those older than about a year or two, only came with one thunderbolt port, adding one extra monitor is possible. However, this question then arises: What happens if you want more than one?
Therein lies a bit of an issue. There are some devices (hubs) that you can buy so that you can add more thunderbolt connections and therefore, you can easily add more screens. But, these are pretty expensive, over $150 expensive, so we went on a search for a less expensive alternative, and we found it: Air Display.
So, how does Air Display work?
The Air Display app (made by a company called Avatron software) works like the name implies really, in that it displays via air (wireless) on another screen. It's wireless but not bluetooth.  All you do to get it to work is to download the app onto your main Mac computer and then download it as well to your iPad, other tablet, Mac or even Window's computer, whichever you're going to be using as the extra monitor or monitors. Although it is easy to setup, I went ahead and wrote up below a "how to" so that you can get it setup properly, and quickly.
 How to Use Air Display:
There are really just 3 steps to getting this setup, although it may appear longer as you scroll through. I just included extra information or screenshots to help you in all scenarios. Just follow the steps below and you'll be setup in a jiffy.
Note: If you cannot connect, as I couldn't my first time, there may be a program conflicting with it. I found that a program called "LogMeIn" was open and when I closed it Air Display worked fine. I also had two iPads connected and both were named "Kim's iPad," and once I changed the name on one to "Kimberly's iPad" it helped as well, so I am not 100% sure on which fix worked. Try both if you have an issue, or ask me in comments for help and I can try to help you if you have a problem.
Step 1) Download Air Display to both devices.
Once you have it downloaded on both of, or all of the screens you want to use Air Display on, you can connect your main Mac with those other screens. Next, on your Mac that you're using to work on, or play with, you should see Air Display up in the menu bar at the top of your Mac.
Step 2) Connect Devices
On the other device you have Air Display on, open the app. Now, go to the menu bar at top of your Mac and click on the Air Display icon (looks like two windows overlapping).
You will see "connect" and a list of what it has located to connect to (such as for me it said "Kim's iPad").
If you do not see your device mentioned, click on "connect to other." In this box you will enter the IP address given to you on your other device that you want to connect. To find the IP address, it is in the app at the bottom, once you launch it.
Step 3) Set up Your Arrangement
Once connected you can now setup how you wish your screens to be displayed. To do this, go to System Preferences (in your dock or in Finder). Click on "Display."
You can now click on "Arrangement" and drag and drop your screens (monitors) around to where you want them. Experiment a bit, drag and drop one to the left, right, one in the middle, whatever you like, then move your mouse around to see if you have it the way you want it.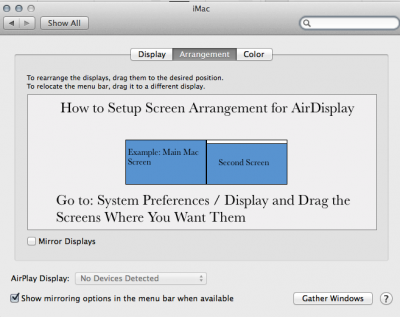 You can do some setup on the other monitor as well, a separate window will be open for you to click on preferences for it.
Mirroring option: Usually you will not want to have the screen mirrored, meaning what you see on your main computer that you're using displayed on your other monitors, but if you do, check mark the box that says "mirror" in the Display settings.
My Final Opinion on Air Display
I have not yet tried Air Display on anything other than my iPad and my iPhone, so I cannot say from experience how well it works when using a Windows computer or other tablet. I can say that on my iPad and my MacBook Pro it works great. It's of course much smaller on the iPad, but I can enlarge the screen so that's fine with me.
You can feel a small lag between the screens, whereas my connection via my thunderbolt (corded connection) port to a HDMI television has no lag, but that's of course to be expected as it's wireless. I didn't find the lag to be that bad, others may really hate it. I do know that it is something that Avatron has been working on, because when I first used it a few years ago it was much worse, so I expect it to continue getting better as they keep improving it.
My final opinion of this app is that I really love it! When in need for another monitor, whether to increase productivity or just have fun, Air Display is the perfect tool to use. You can't beat the price, but aside even from the low cost, there's the fact that it's just really an awesome app and one of my personal favorites!  I am so glad to have had it over the past few years as it has just gotten better year after year, and I am sure it will continue to do so with each new update.
I will continue using it when I need a third monitor, and when I, or one of my writers, use it on another device, we'll update this article to let you know how it does and if the lag is good, good enough, or unbearable. Whichever it is, you can be sure we'll tell you the truth!
This review is done by me without Avatron Software's request, and my opinions are 100% mine and unpaid for.
Air Display is $10 and available in iTunes or on their website at www.avatron.com/apps/air-display.