Aimersoft Video Editor
Family
Review of the Aimersoft Video Editor
As a writer I've been looking for a decent but affordable video editing program for some time, mainly because more and more of my posts could benefit from including a video. When Aimersoft first approached us to review their Video Editor, I was excited, but unfortunately they asked us to review the Windows version rather than the Mac one, that aside, I installed it on my Windows, and then have spent the last three days testing it out.
What is the Aimersoft Video Editor?
Aimersoft offers a couple of ddifferent programs including rippers and converters, and they also offer a video editor for editing your files once you rip them. The program costs $35 for Windows or Mac, and includes a sleek, streamlined interface that's easy to use, fast, and includes the basic features that most users need. At $30 it's priced relatively affordable, considering that many competitors are right around $69.
Features.
Aimersoft's video editor isn't a feature rich video editing suite, but from the description, it wasn't really something I was expecting anyway. I took a few minutes to poke around and then immediately started using it. There were the features I found.
Record – You can record videos using your webcam right in the app. This worked well with two different cameras that I tried and the quality was just as good as recording with just the camera.
Import – You can import your videos from somewhere else on your computer.
Extras – At the top of the screen is a 'Download' button. This includes downloadable extras.
Edit – You can completely edit a video, add a soundtrack, remove clips, splice multiple clips together, create a photo slideshow, add sound effects like gunshots, add intros and credits, add transitions, add text, change the color and style of the video with effects, and even change the lighting and contrast on the video. You can also speed up your video or slow it down, add a recorded track, and more. overall, there are plenty of editing features.
Export – When you choose to export your video you'll be asked to choose the type of device it's for. You'll also be able to choose the format, what folder you want to save to, and even if you want to upload it to YouTube providing your YouTube is connected.
Pros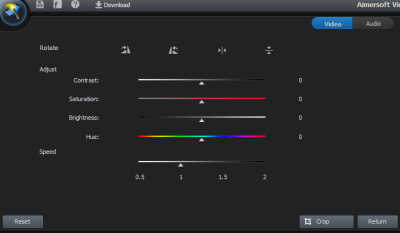 The main thing that really impressed me about Aimersoft's video editor is that it is very easy to use. In fact I would guess that my mother, who had to ask how to send a text, could figure it out on her own. It's extremely easy to use, all of the buttons are labeled clearly, and you wont' have any problems navigating the interface.It's also lighter and faster than any of the free versions that I've tested, which on it's own makes it worth taking a look at.
Simplicity
All of the features the average user will need
Upload to Facebook Function
Record is built right into the app
Funny Effects Are Available
Fairly Fast
Cons
There are only three real cons with using Aimersoft's Video editor.
There are a couple of tiny bugs. For example when you delete a file the editor will ask you if it should ask you this next time. This button does not work.
There are not a huge lot of features available in the editor. It's great for making home movies, picture slideshows, and the like, but it's not a professional editor.
Clipping parts of the file from the beginning or end of a clip is somewhat difficult.
What We'd Like to See
Aimersoft has a lot of different products but what we'rd really like to see is a master suite with all of the features rolled into one. The average user can and will utilize DVD ripping, file conversion, YouTube Downloads, and DVD Creation, so integrating all of these features would take Aimersoft's software from good to amazing.
If you're looking for a feature rich design then AimViz might not be for you, but if you're in search of simplicity and an easy to use interface, then look no further. All in all it's a great bit of software and absolutely perfect if you want a light, fast way to edit and create your home videos and family photo slideshows.
Want to give it a try? Aimersoft offers a free trial so you can try their software out before you purchase it.