Acer Aspire V5 Touch Review
A Review of the Acer Aspire V5 Touch
The Acer Aspire V5 Touch is a 15-inch laptop that comes with a powerful Intel Core i3 processor. This is a low-priced laptop that has a user-friendly track pad, but disappoints users with its poor battery life, slow processor and soft, bendy keyboard. This model may be a bargain given its price, but those who are looking for a more powerful laptop better find another model than this one.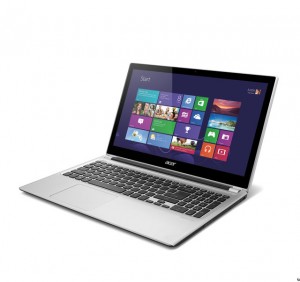 Design
The laptop has a weight of 5.7 pounds, which is quite heavy when compared to its other competing models. Its silver body is complemented by a black screen bezel and keyboard, making it look like the MacBook Pro. The display curves off at the edges, similar to that of the Nokia Lumia 920. The widescreen display measuring 15 inches looks spacious and is coupled by a 10-point multi-touch keyboard. It can display a resolution of 1366×768 pixels, not the best in the market but pretty understandable given its inexpensive price tag.
Connectivity
The laptop has a DVD drive, a couple of USB 2.0 ports and another for USB 3.0, and HDMI output. There's also a combo port for LAN/VGA, an SD and MMC card reader placed up front. For wireless connection, the laptop has Bluetooth 4.0 and 802.11b/g/n Wi-Fi.
Specifications
Being a lower-priced laptop, the Acer Aspire V5 Touch is no cutting-edge model. Its processor, the Intel Core i3-2365M CPU, is actually based on an older design. Simply put, the processor is not the most advanced chip in the market. Perhaps this explains why the laptop is one of the cheapest in the market today. The processor is a dual-core chip that runs at 1.4GHz but lacks the Turbo Boost feature of Intel.
The laptop does have a pedestrian 4GB memory, which is typical for lower-priced models. It also has a standard 540GB of hard space, providing users with enough space for their photos, videos and other resource-demanding files.
Applications
The Aspire V5 Touch is preloaded with a bunch of cool apps like the iCookbook, Evernote, Cut the Rope, Lovefilm, Kindle and Skitch. It can also support VoIP services like that from RingCentral VoIP provider.
Performance
Because of its less than advanced processor, the Aspire V5 Touch takes some time to load few applications. The lack of power is a glaring weakness of this laptop, so users who perform intensive applications like photo and video editing will be disappointed with this model. This is not to say that the laptop is a complete trash, it's just that it will take some time for it to load photos or applications. The laptop's HD3000 graphics is also not suitable for heavy video gamers. Another weakness is its keyboard, which is not always responsive.
It has other redeeming features, however. Its touch screen is smooth and responsive and works just fine. It also works best with the new Microsoft operating system – Windows 8. The track pad also works perfectly.
Overall, the Acer Aspire V5 Touch is a solid, inexpensive laptop. It may not be the most powerful laptop available in the market but it does have its impressive features like the touch screen and track pad. It is best suited for casual users who may only use it for simple applications like web browsing and MS Office applications.