15.6" Acer Aspire Review : Best Computer for the Money
REVIEWS
15.6" Acer Aspire Review : Best Computer for the Money
There are many 15.3" Acer computers and most of them are pretty similar. The exact model I am reviewing here is the Acer Aspire 15.6" 5750Z-4835 model with 2 Ghz Intel Pentium B940 Processor with a 2 mb l3 cache and 4 GB of DDR3 memory. There are currently more powerful versions available, although I purchased this one because at the time it was on sale for $300. You can buy the Acer Aspire for $499 to $300 depending on whether or not it is on sale at the time. Here is my Acer Aspire review for the 15.5″ model.
What's in the Box?
The box is pretty much just the computer, a user manual, the charging cable, and a bunch of protective foam. You can pull the Acer Aspire right out of the box, plug it in, and it took me roughly five minutes to get it set up. Depending on how computer savvy you are and what you decide to do with setup, this might take you more or less time. Computer stats are as follows:
2 Ghz Processor
Intel HD Graphics
15.6" LED LCD HD Screen
4 GB DDR3 Memory
500 GB Hard Drive
DVD Super-Multi DL Drive
Acer Nplify 802.11/b/g/n/
6 cell Li-Ion battery
The stats one the Acer Aspire are actually really good for the money although you can upgrade to a slightly newer model of the Acer Aspire for a few hundred extra.
Performance
The most important part of any computer review is performance. One thing that any gamers should note about the Acer Aspire is that it  isn't compatible with some games such as Metro due to the graphics card. If you want to game, you should either look into replacing the chip, or buying another computer. With four gigabytes of RAM it is on the okay low end of powerful, but I haven't had any problems with it during normal use. I typically run about 6-8 browser pages, four programs including iTunes, Microsoft Word, One Note, Excel, and depending on the time of day and what I am doing, anything else I need for work. The computer is usually very fast and responsive.
I do have AVG Antivirus and I have noticed that my Acer Aspire freezes while running the antivirus. Notably I also updated by WoW while running my antivirus scan plus a bunch of programs and it lagged a great deal. However as I was downloading 20 gigabytes of game (Mists of Pandoria) I think that the lag is within reason.
Screen
The Acer Aspire 15.6" does have a very nice screen, but only if you're working indoors. If you are anywhere near any sort of bright light such as the sun or a lamp that is behind you, the screen is ridiculously reflective and you can't see a thing. It doesn't matter if you change the lighting settings then you're going to be looking at a black and white mirror instead of a screen.
Graphics are very good, although if you would like to play some games, you do need a chip upgrade because the Intel HD Graphics card is not as powerful as some computers. Overall the screen is very high quality so you won't have any problems watching movies, TV shows, or anything else on it even if you are relatively picky about your screen quality.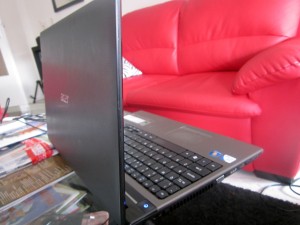 Pros
There are a couple of things I really love about the Acer Aspire 15.6" and am definitely going to leave a positive review about. While not everything about the computer is great, here are a few of the things that I love.
Very Cheap
Responsive and fast
'Smart Computer' type in 'CV' it brings up items labeled 'Resume'
Quality screen
Great sound
Responsive Keyboard
Cons
Needless to say, there are also a few things that I hate about this Acer, my review includes the cons of the computer as well so you can decide for yourself whether or not they are deal breakers
Design flaw leaves the power button where you push it by accident too often
Keys come off very easily
Optical Drive on (my version) sucks. It hums, slows the computer down by about 70% when in use, and often opens of its own accord. (it's haunted)
Graphics Card could be better
Battery life is relatively short, you get about 2 hours of gaming, or about 5 hours of browsing the web. Battery says 7 hours but this is a lie.
Review of the Acer Aspire 15.6"
Overall, the Acer Aspire 15.6" is a great computer for the money. I really like the computer and it is actually one of the best ones I've owned to date. The screen is high quality, keys are easy to type on, the computer is fast and great for multitasking although the optical drive is typically non-user friendly. My review of the Acer Aspire is mostly positive but I don't think it is a very good travel laptop. Instead, purchase it for home use where you can leave it plugged in for the majority of times.
The Acer Aspire 15.6" retails for $300-$800 depending on the model and the place of sale, but anyone looking for a budget computer should definitely check Amazon for the cheapest option.
Acer 15.6″ Notebook, 3rd Gen Intel Core i7 2.2GHz, 6GB RAM, 500GB HDD, 2GB NVIDIA GeForce GT 640M – $599.99* After MIR, Expires 4/30, Normally 649.99.