A Review of Stellar SpeedUp Mac
Software
A Review of Stellar SpeedUp Mac
When your Mac starts to slow down, you have a problem. You probably know that over time, the hard drive on your Mac can fill up with unused applications and files, we geeks refer to as 'junk'. Removing these unused items can take time, if you do it manually, but a Mac cleaning program will help. The Stellar SpeedUp Mac application will help you quickly and easily remove that unwanted 'junk' and files, to give your Mac the speed it should have. This app is a cleanup utility and optimizer, that cleans and removes data to improve the performance of your Mac.
Download and Install Process
The download and installation process for Stellar SpeedUp Mac is quite simple and straightforward. Simply download the application on your Mac. When it has completed downloading? Look for the *.dmg file for Stellar Phoenix Application. Double click on it. Drag the application to your Application folder, choose 'Run', and that's it!
If you are not purchasing right away, you can download and install the free demo or free trial version following the same steps above. Keep in mind, the demo version will not be a fully functional version. You have to purchase the full version to have access to all the features. The full version costs less than $30.00. Now the free trial version, not to be confused with the 'demo version" does include the uninstall feature, removes trash, logs, junk files, and provides a preview of audio and video files before removing them from the system. Free trial versions normally give you anywhere from 15 to 30 days to try before you buy.
System Requirements

To download and run SpeedUp Mac, you need certain system requirements. This application is compatible with Mac OX X Mountain Lion, Lion, Snow Leopard, Leopard, Tiger, and Panther.
Requirements:
25 MB free hard disk space
Intel, Power PC, G3 or later Processor
1 GB memory

Interface
SpeedUp Mac has a simple, interactive interface, that is very user-friendly. It offers a complete set of easy to understand options for freeing up space on the disk and improving the performance of your Mac. You can choose to uninstall unnecessary files, applications, or widgets. You can also clean your Mac by deleting duplicate or large files and language files. The interface makes selecting options very user-friendly and easy to understand, even for the novice computer user.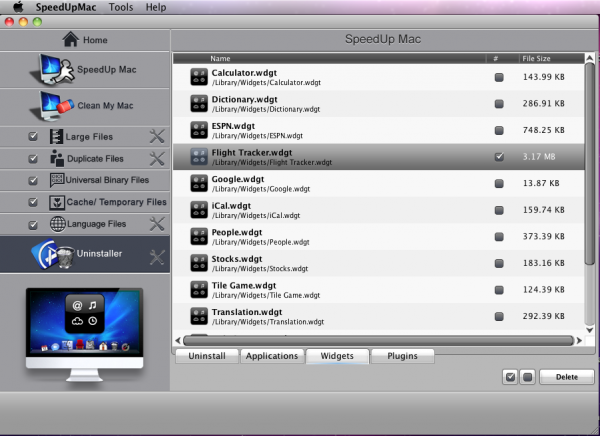 Features of SpeedUp Mac
Stellar SpeedUp Mac comes with all the features you would expect to keep your Mac running its best. These application features work together to speed up and clean your Mac with just a few clicks! With regular use of the application, this application will keep your Mac performing optimally, and definitely better than if you don't do some type of maintenance!
1. Quick Look Button
This application allows a preview of all audio, image, video files and any other data, before removing such. The ability to preview a file prior to deleting it, ensures nothing is deleted without your review and approval.
2. Increase Mac Speed
This feature allows removal of unwanted logs, junk files, and leftover pieces of applications to boost the speed of your Mac; frees up space on the hard drive; and manages extensions that run in the background.
3. Drag and Drop Uninstall
This feature is an easy way to completely uninstall widgets, plug-ins, and other applications. Just drag and drop the widgets, plug-ins, and apps, into the Uninstaller area of the application. Besides manually performing this action, you can also up automatic tasks.
4. Clean Up
This application cleans all caches including logs, iOS photo cache, duplicate files, and Universal Binaries. The space gained by removing all the unused files will help your Mac have a better processing speed.
5. Scheduler
This feature allows you to schedule when you want specific tasks performed. This comes in handy because you do not have to remember to do the tasks before you notice a slow down. Your application will automatically keep your system cleaned.
Support
You can contact their support agents several different ways. They have chat support, a toll free telephone number, email support for submitting a ticket by email and visiting their knowledge based support where you can find answers to almost all of your questions or issues in an easy to navigate forum type setting. So their support is quite extensive and available for you when and however, you need it.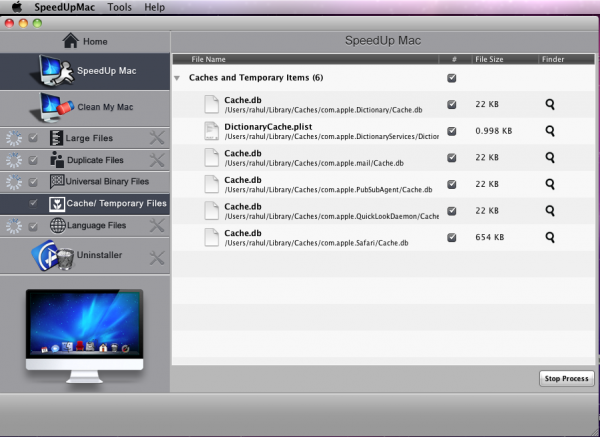 Pros and Cons
There really are more pros than cons with SpeedUp Mac. The one downfall is, that the free demo version will show you a list of unwanted files but, will not remove them. To remove the files, you will have to purchase the full version. The free demo version is often confused with the trial version of the application, which does include some features to clean up your Mac, but not all.
Pros:
Automatic Update
Backup Feature
Simple Interface
Scheduler for Regular Use
Free Trial Version
Free Demo Version
Cons:
Free demo version will not remove unused files
Free trial version does not include all features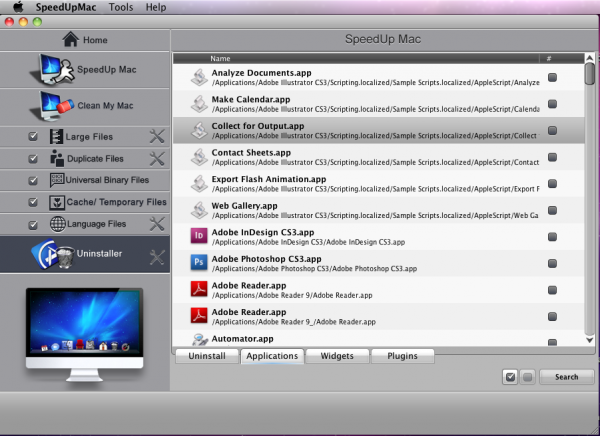 Conclusion
With all the features offered by Stellar SpeedUp Mac, it's a good application to have. It does what it says it will do, and has a user-friendly interface. The only confusion, is the free demo version v. free trial version. Either way, eventually, if you like this application, you will have to purchase the full version for it to do it's complete job. As long as you understand which version you are installing, you will not be disappointed. The free demo is good for showing you what is on your computer, but will not remove any items. The free trial version will remove items, but does not have all the features of the full version that you get when you purchase the application. Feel free to comment if you have tried this application! We would love to hear from a user!
Update: We found this coupon code that you may want to think about using. Read our review on Stellar Mac Data Recovery to see if it's something you need.