5 Awesome Tech Toys for Kids That You Will Love Too
5 Awesome Tech Toys for Kids That You Will Love Too!
Got a kid that loves tech? You're in luck then, because we have gathered some really cool tech toys that they will just love, and probably you will too! These five tech toys are basically gadgets, but since they're for kids, we'll just keep calling them toys. Our list is in no particular order, so whichever you choose is sure to be a hit with your special little person.
1- Doctor Who Sonic Screwdriver
Kids of all ages, even those well into their thirties, are loving and wanting a Doctor Who sonic screwdriver. Why though? Well, because it's fun! Not only is it fun, it's also an important tool to have when you're exploring the universe. This toy is not only for looks, however, it also works, well in a way it works.
The way the sonic screwdriver, works is by pressing the button on its side which will then activate the LED and sound effects. Although this is adding to the fun part, it should be known that it's not too helpful on the part involving universe exploration, unless that is, that you use it to distract Prisoner Zero if you find yourself in a confrontation with him like Doctor Who did in the village of Leadworth, which by the way, is where he lost his previous sonic screwdriver, so hold it tight Dr. Who fans!
You can also get the mini-sonic screwdriver that conveniently attaches to your keychain or to a child's backpack. You may also just try to win it too, which is possible by taking our Doctor Who quiz that starts next week!
2 – Tetris Link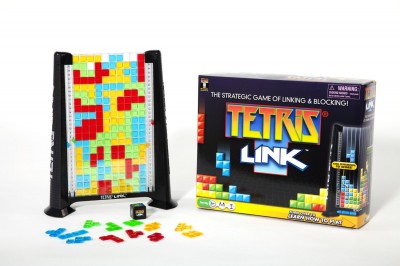 This has been a long time favorite on lists for the best tech toys for kids, so it definitely makes it on our top 5 too. Ever since it first came out in 1984, kids and adults of all ages have loved playing Tetris, mostly in a computer or hand game form, but even in this format it's still great fun. If this is your child's first introduction to this super popular game, or even if it's not, your child is sure to love it as much as the millions and millions of others that still love it too.
Tetris Link is a game that can be played alone or with others. To play, the player puts the shapes (called Tetriminos) into a frame and then play it as you would have digitally. It's a great strategy game, one that helps keep a child's interest for a long time. Due to its popularity, it's also a game that may get you playing with them, which is even more fun to a child than the game is.
 3 – Fisher Price Video Camera
When you think of a tech toy, you can't help but also think of money, and the break-ability factor. That's because kids tech toys almost always cost a bit more than regular toys, and like our own tech gadgets, they're usually a bit more fragile too. Fortunately there are some toy manufacturers that think of this when they are making these toys, and one toy maker that fits into this category is the well known, Fisher-Price. They make many toys that are what they call 'kid-tough,' so they're a great brand to look to when buying a tech toy that is not overly expensive, and is also going to hold up to your child's rough and tumble ways.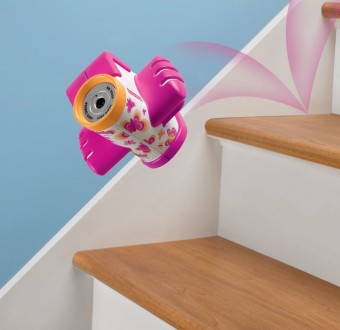 The tech toy that we recommend from Fisher-Price that is for younger children (36 months to 6 years), is the Fisher-Price Kid-Tough Video Camera. This toy isn't just a toy, it's actually a workable video camera. It takes 15 minutes worth of footage, which is either a blessing or a curse depending on how you look at it, since 15 minutes means you won't have to watch hours of your child's filming of the cat licking itself, but on the other hand, every 15 minutes your child will want you to load their video onto your computer so they can go shoot some more interesting stuff around the house.
4 – Furby, the New Generation
If you're wondering if this is the same toy Furby that had stopped being manufactured in 2007, as well as the same one that was not allowed in US military installations, the answer is: yes, it's the same toy, although it's now the new generation. Furbies began to be manufactured again beginning in 2012. It seems that they are still on the banned list for military bases, and are also still not allowed on airplanes.
This newest generation of Furby is definitely an upgrade on the last one technologically. This Furby not only talks, it also learns. The Furby starts out speaking in Furbish, which they have an app for so you can translate it, but the more you talk to your Furby the more your Furby begins to learn your language. You even help shape its personality by feeding, tickling and shaking it, as well as talking and playing music to it.
Your actions are what shape your Furby's personality, which goes along with what the company says, which is 'your Furby has a mind of its own.' Furbies can also learn from other Furbies, thanks to an infrared device in their heads. This 'toy' is for anyone age 6 or older, and its apps are available on iOS devices, such as the iPhone or iPad.
5 – Kidz Labs Fun Science Kits
Kidz Labs is the maker of some really cool, really inexpensive, science kits. They have one for just about any kid with any interest, such as Dynamo Torch, which teaches kids (by actually having them build it) how to make a green science project by turning a simple toy motor into a generator that will convert hand motion into electrical energy that powers an LED light bulb.
Other great kits they have include a Weather Station (conduct greenhouse experiments using an included terrarium), Clean Water Science (desalinate sea water making it drinkable, and more neat things), Eco Science Toys (build a hover device, and other interesting tech toys), Solar Science (learn to cook an egg in the sun, or purify water), Illusion Science (learn more about the optic nerves, while having fun), Magnet Science (unraveling the mystery of magnets, and making games too), Solar System Planetarium (assembling, making, and painting their own planets and solar system), and a Kitchen Science kit (includes six exciting experiments using common household ingredients, such as making electricity, and launching a rocket.)