30 Days with Panda Internet Security 2013 – A Test and Review
Software
30 Days with Panda Internet Security 2013 – A Test and Review
Panda Antivirus has been around for a long time, but in the last five years I've only ever seen it on one computer. As I am reviewing various popular antivirus options with a 30 day test of each, I decided to review Panda Internet Security 2013.  Now, before I begin my review, I hated Panda. It has too many popups, is bloated, and overall is pretty annoying, but I am going to be fair and review it with complete honesty. There are good points about the software too, and I will point those out.
Download & Install
Panda downloads and installs pretty quickly wich is a huge plus if you don't really want to sit around for a while. You can also start using it without restarting your computer, which is another plus. I liked that it is also quite easy to install, you don't have to click hundreds of buttons, and you can start using it right away.
Interface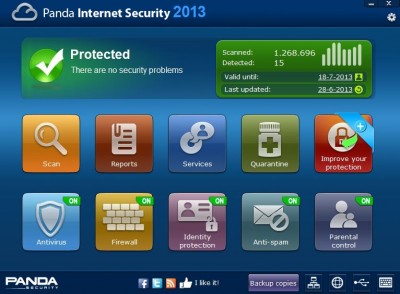 Probably the thing that stands out the msot about Panda Antivirus 2013 is that the interface is extremely colorful. Each button has its own color on a background of blue. No light pastels here! Plus with only 10 large buttons that are easy to figure out, and a single notification bar, Panda is quite simple and user friendly. You can definitely see what you can do with Panda at a glance, which is another plus.
Features
Panda antivirus has a few basic features as well as some supplementary ones. For example, your antivirus comes with a full virus scan as well as a quarantine and you can look at reports as well. Basic features include:
Antivirus

Firewall

Parental Controls

Anti-Spam

Identity Protection
For parental control users, Panda actually shows a full list of every website blocked, so you can check up on where your kids have been trying to go. The anti-spam protection helps filter out junk mail that you download to your PC. The identity protection is probably the most proactive of Panda's features and actually blocks computers linking to your network unless you authorize them. In fact, it can get more than a little annoying if you have more than one computer in the house that doesn't connect regularly, as it will ask you if you want to block the incoming PC every time. However, all in all, it's a great feature that can help you keep other people off of your network. You can also set it to prevent you from dialing unauthorized numbers, and to warn you if you are transmitting confidential information.
Scan & Virus Removal
Panda antivirus does have pretty good antivirus removal, but it is not as good as other options that I have tried. In fact, I would say that both Norton 360 and AVG Internet Security do better than Panda in terms of virus removal. However, Panda has a pretty good malware removal tool and it hits malware that is still online as well. I also like that the antivirus covers all of your ports including USB, so you can scan them for viruses as well.
The firewall is not actually very good. While you're probably better off with the Panda firewall than the one built into your computer, it doesn't' protect you for too much more. Even AVG free has a better firewall, so you shouldn't visit any sort of risky sites with Panda.
My first scan was a full computer scan and took about 8 hours. I was a little disappointed about the time frame. My second scan was a partial computer scan and took about 30 seconds, which is awesome. Unfortunately, a  third test dropped the scan time back down to 6 hours for the full computer scan. Bottom line, if you want to scan your full computer, it is going to take a while. However, the full scan is pretty good at finding viruses. I dropped two on my system before running the scan, and it found both of them.
I would also like to note that Panda actually flagged my software updates as malware risks a time or two. As I know that these updates are from verified publishers (like Microsoft) I ruled out the possibility of an infection and just installed them anyway with no issues.
Pros
Panda Antivirus does have a lot of pros: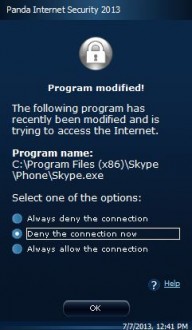 Easy to Use

Sends Notifications

Clean Interface

Protects USBs

Good Web Based Protection

Backup
Cons
Too Many Popups

Cuts Performance

Anti-Spam isn't very good

Firewall is weak
Probably the biggest con of  Panda in my opinion is that it always has a popup. I personally think that popups are annoying so Panda was aggravating from day one. However, the weak firewall is also an issue that most should pay attention to.
Review
Panda Internet Security 2013 isn't a bad antivirus, but it isn't a great one either. While you can make do with it, I do not think that it is worth the $59 price tag. For that, you are better off going with Norton, AVG, Kasperskys, or pretty much anything else on the planet. However, Panda does have a lot of good points, offers good protection, and has a lot of features. However, with no social protection, a weak firewall, and an anti-spam that could use some work, it's still far from top of the line.