15 iPhone Apps & Functions that Make it Worth Buying
15 iPhone Apps & Functions that Make it Worth Buying
We all know that iPhone 5's are cool and that they are currently the gadget to have, but why? What's so good about these Apple products that everyone seems to be attracted to purchasing them; even when they are so expensive! Maybe is has something to do with the list of great iPhone apps below? This list includes some great apps, tools and features that the iPhone 5 can be used with.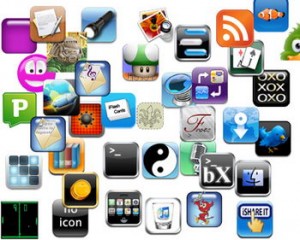 Calendar
You can use the built-in app which syncs with a whole range of calendar services, or you can use one of the many third party options that provide a variety of great features paper just couldn't do. I just miss the calendar girls. Miss July and I had a thing going.
Score Card
Whether you're playing pickup basketball, soccer, or golf, there's an app for scoring it like a pro. There are shot clocks, scoreboards, and detailed scorecards that analyze your game, like Nike's Golf 360 app. Say byebye to paper, and hello to digital scoring.
Mouse and Keyboard
Apps like Logitech's touch mouse are leaving more and more people ditching the keyboard and mouse for options like presentations, and movie watching, and replacing them with all-in-one ease, as well as touch-screen portability and versatility. Note: Also great for pranking an unsuspecting friend.
Portable DVD Player
Who remembers those things? The clunky laptop-looking devices of yesteryear that we used to use to play DVDs. No more buying DVDs and hauling a huge load just to watch movies. We've got infinite TV and movies available in a tiny package through services like iTunes, and Netflix, and then there's YouTube where we can entertain ourselves for hours with small videos.
Flash Drive and Portable Hard Drive
With up to 64 Gigabytes of storage at your fingertips, you can pretty much replace the flash drive and portable hard drive, and transport your precious documents on your phone. You can even transfer everything over the air using a variety of apps like "USB Flash Drive" or a cloud service like Apple's iCloud.
Restaurant and Travel Guide
Looking for a particular type of lunch spot? You can search for the perfect restaurant using apps like Google Local, or you can take recommendations from Dragon Go!, or Siri, and you can even directly make reservations and save money through apps like Savored and OpenTable, your choice.
Weatherman
With the iPhone's weather tools, you can be more accurate than the weatherman, and without having to sit through 10 minutes of commercials to see the weather. My personal favorite in this crowded area is Dark Sky, which predicts to the minute the start and end of precipitation, and even how bad it is, and can even send you alerts. You can also use an interactive radar app to scan the area while you're at it which tells you the weather, and helps Dark Sky to better predict the weather.
Watch and Timer
You can set reminders that are accurate to the minute, and alarms and timers to the second. You can see the time around the world, and you can customize it all with custom ringtones, and alarm apps like that of Funny man Jimmy Fallon, who will wake you using jokes, and hilarious alarms. This iPhone app comes built in but you can download alternate options as well.
Car keys
Revolutionary car manufacturers like Tesla, and developers like Viper are building apps that allow you to start, lock, unlock, and control a variety of cars straight from your iPhone. If you're not a driver, but want to give this a try, you can buy one of the many mini remote control cars now controlled by iPhone apps as well.
Travel Agent
Apps from companies like Kayak, and Tripadvisor make booking travel on your iPhone a breeze. These iPhone apps actually utilize the advantages of touch to speed up the process of booking your trip. Nearly every airline, including Jetblue, American, and United here in the US, have an iPhone app where you can check in, manage reservations, and pull up an e-ticket before you travel.
Real Estate Agent
Ok, it's a stretch, but apps like Trulia can help you find homes on the market and contact the seller, helping you find the perfect home more independently. You can also look for rentals, leases, and property for friends as well.
Notepad
Apps like Evernote, and Apple's own notes allow users to store their ideas safely in a quick-to-make, cloud-secured environment. DropBox, Google Drive, iCloud, and Skydrive are other great alternatives!
Game Console
With casual games like Angry Birds, and more advanced games like Air Supremacy, iOS is quickly becoming the gaming platform of choice for millions, and peer-to-peer developments as well as built-in wireless make gaming with friends incredibly easy. My favorite oldies include Tetris and Pacman lite.
Casino
Instead of gambling away real cash, I save myself some money and play Zynga Poker, and other similar apps (there are some that use real cash as well if you'd like). These iPhone poker apps can be really addicting, without the risk, and they're very interactive, which is nice.
Sketchbook
Autodesk's Sketchbook X, and similar apps, paired with a stylus, provide an excellent forum for the Picasso's of the world to practice drawing, and these apps even get some professional use. I've known a few people who could do impressive architectural sketches and animals on iPhones and iPads, and if you have the talent, you can to!