Facebook Free Calling Introduced For iPhone Facebook Messenger Users
Facebook Introduces Free Mobile Calling For iPhone Facebook Messenger Users
by Brandy Cross
Facebook has been introducing a variety of new features recently including the new Graph Search, but they've also added an upgrade to their iOS Messenger app for iPhone to include the new Facebook free calling app. United States Facebook users can now place free voice calls to anyone in their contacts list with Messenger installed via wifi or 3G. The service is unfortunately not yet available for Android, but could be a great way for iPhone users to call their Facebook friends without using Apple's FaceTime or their calling minutes. Facebook claims that it is currently working on expanding the free calling feature for Android and Blackberry users who might actually need it more than iPhone users.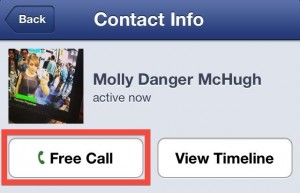 How Facebook Free Calling Works
Anyone who wants to use the Facebook free calling application should check to ensure that they have the 'Messenger' app installed as well as the Facebook app. From there, iPhone users can log on, click the contact they would like to call, and tap the "I" in the upper right hand corner. From there, you can select 'place free call', to be put through to your friend on their phone. The Facebook free calling service is autonomous of the Skype calling feature that is currently integrated with the Facebook messaging system on the PC, which might be why users cannot call a PC for now.
There are multiple limitations to the Facebook free calling service including that calls can only be placed if both parties are using iOS Facebook Messenger, and that calls can only be made to phones, not to a computer. Because Facebook users can already place calls from computer to computer, the restriction is a bit limiting, but the call service might soon be expanded to include computer to phone, as well as other operating systems, and even international calls at some point in the future.
Facebook is Rapidly Expanding
Facebook's new updates have been nothing short of groundbreaking in some of their fields. Currently the messaging system is one of the most sophisticated ever built with the ability to include email contacts as well as Facebook contacts and chat. Google's own Gmail is almost as sophisticated with contacts as it allows chat and email, but has not yet expanded to including Facebook contacts for chat or email.
The new Graph search is also somewhat of an astonishing new thing, with the ability to search for phrases, find people who like certain things, and even find shops that your friends frequent, the Graph search is actually smart as well as useful. Despite this, Graph is not Facebook's way of taking on Google, just like the new Facebook calling is not Facebook's way of taking on Apple. Both serve a purpose separate from their competitors and merely work to make Facebook more attractive rather than forcing other services to keep up. Facebook obviously does not want to go the same way as other social engines that forgot to update their features (such as Myspace), and is therefore updating and staying new and interesting.
If you want to make a free call with your iPhone and Facebook Messenger app, make sure you have the app, and then feel free to call any of your friends who already have an iPhone. OF course, since they have an iPhone you could probably just FaceTime them anyway, but hey, who's paying attention to FaceTime. On a more serious note, the Facebook Messenger free calling for iPhones is voice only while FaceTime requires you to be presentable, or not wearing your pajamas when you make the call.
Do you plan on using Facebook free calling? If so, did you experience any bugs? What do you think about the software? We'd love to hear from you.