Artificial Eye Retinal Implants Could Allow the Blind to Read
Artificial Eye Retinal Implants Could Allow the Blind to Read
By Brandy Cross
New developments in artificial eye technology could allow the blind to read, but not to see. Retinal implants have now been developed with the technology to 'read' text on signs or menus, and convert it to braille for a visually impaired patient. While artificial eye technology is still a relatively 'new and developing' tech, it could mean a new sense of freedom for the visually impaired.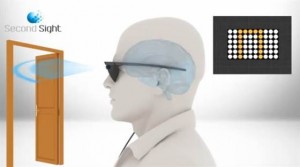 What is a Retinal Implant?
A retinal implant or prosthetic retina is a device that is used to return partial eyesight to blind or visually impaired victims. The technology has already been used in one study to completely restore vision to a series of blind mice, allowing them to see again, and in other cases used to restore vision to persons with degenerative sight diseases. The eye prostheses are implanted into the back of the eye where they are programed to transmit images and visual data to the brain, in a similar way that the working retina would. While the technology isn't far enough along to provide users with fully working artificial eyes, it can allow partial vision restoration, even to the point of giving back enough sight to read signs, see yourself in the mirror, and walk without aid in unknown areas. However, the artificial eye technology used in this instance is purely focused on transferring standard text into braille, which is more familiar and easier to comprehend for most visually impaired persons.
How It Works
Restoring sight to the visually impaired is almost within reach, but even so, there are very few accommodations available for the blind, who might not be able to read unfamiliar items such as menus, street crossing signs or flyers. The new retinal implant for artificial eye technology was developed by Second Sight, an artificial sight technologies company, responsible for developing both the Argus I and the Argus II technologies. The Argus I is the first of its kind, a retinal implant for artificial vision and aided reading. The implant works to read text and then transmit it to vision sensors at the back of the eye, after translating it into Braille text that the person should be able to read. The Argus I was effective, but offered very low resolution results. The Argus II offers higher resolution, and has been tested with an 89% accuracy rate on short words, and higher on longer words. While this artificial reading aid clearly needs more work, it is a far step from just a few years ago when no retinal implants were available. Currently the Argus II operates using a minute video camera mounted on a pair of glasses to read text, and then transfer it to the eye on a 10×6 electrode array, in braille dots.  While not currently 100% effective, the Argus II is sufficiently capable of allowing visually impaired patients to differentiate between road signs, to find cafés and restaurants, and even to read street signs with about 70-89% accuracy. Currently Argus II is not intended to replace standard braille, which most users can read at about 800 words per minute. Instead, it is intended to give more freedom and understanding of a location through the ability to read and understand signs, menus, and other public information messages that are frequently not available for the blind.
The Future of Artificial Eye Technology
Retinal implants are the first step towards a fully working artificial eye, but surprisingly, very few people have them.  An estimated 60,000 people in the United States alone could benefit from an artificial eye, but currently neither the technology nor the knowledge is widespread enough to warrant the necessary surgery.
Artificial eye technology, including aided reading with the Argus II retinal implant, or aided vision, is a new and developing technology that is expected to rise to prominence within the next few years. For now, the Argus II, developed by Thomas Lauritzen of Second Sight, along with developers from the Brigham Young University and French scientists, has been approved for commercial use in Europe.  While not yet available for purchase, the Second Sight website claims that it soon will be, meaning that visually impaired persons can look forward to the technology. With future developments in artificial eye technology, readers could have 100% accuracy, and